Discover our latest recruitment innovations and updates
New Job Posting Interface Upgrade
Maximizes Effortless Posting
Select Your Job Boards (click image to view clearer screen shot)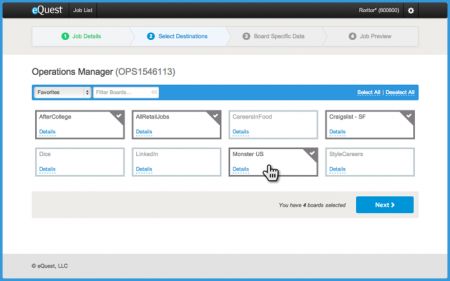 Post Immediately, or Schedule for Later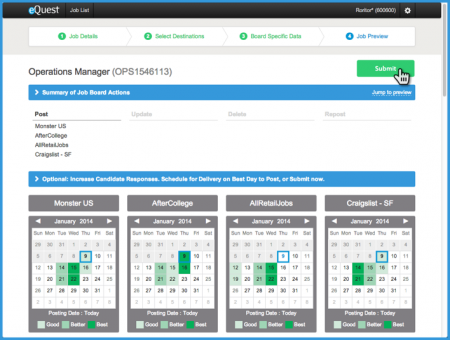 More Appealing Visually: First and foremost users will notice that there have been visual changes to selection buttons, background and accent colors throughout.
Job Posting Optimization: Installed Post-Scheduler to set posting deliveries to occur at a future date.
Navigation: Post process averages just 10 seconds from start to finish.
Favorite Boards: Users or administrators can organize their job board list into specific groups.
Notes: Drop down menu allows administrators to leave specific notes or details to users including cost of board, realtime counters show how many jobs remaining at each site, and free form notes.
All-in-one SELECT ALL or DESELECT ALL buttons.
Search Feature: Locates job boards within your group of boards faster. Great for users with large amounts of job board contracts.
Post-Scheduler™
When posting a job through eQuest, our Big Data analytics system goes to work. In a millisecond we analyze two things: your job posting content and the job boards you have selected to determine the exact moment the site normally experiences the highest number of candidates performing searches for similar jobs in similar locations The choice is yours, post now or schedule the job to be delivered at the optimized candidate traffic moment.
Join Big Data for HR Consortium
We are all about interacting with the HR community and our Big Data for HR consortium is the first of its kind. No cost to join, no membership dues — just plain discussions once a quarter about how job board performance analytics and the use of overall data strategies will lead to a better overall HR experience. Learn more.
Job Posting Delivery Update: Realtime Posting Deliveries
As of January 1, 2014, eQuest delivers jobs to the following boards in realtime:
Monster
Careerbuilder
LinkedIn
This means that your postings will appear on these websites within seconds of posting within the eQuest application.