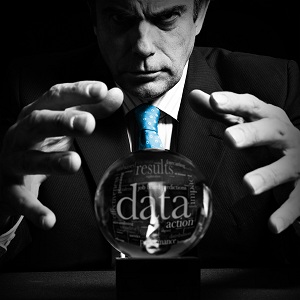 Looking back on 2012, it is clear that Big Data was quite a buzz phrase in the business world.
As I dust off my crystal ball and look to the future, I thought I'd weigh in on what Big Data for HR holds in store for 2013.
There was a lot of talk about Big Data in 2012. The vision and the promise of how Big Data could transform every sector of business was the focus of nearly every article, blog post, and interview about Big Data. Interestingly, though, there was little insight or discussion how the mainstream business world could develop and execute on a strategy to implement, analyze, and use Big Data derived insights to impact the effectiveness of their business. 2013 is when the rubber will start meeting the road. As a recent CloudTimes article puts it, "…And while the past 12 months have been about pilots, this next year will be about production and rewards."
With that in mind, here are my three predictions for 2013:
More Business Function Leadership Will Begin to Get Big Data
Not surprising, Sales & Marketing has embraced Big Data sooner than most other business functions. In 2013, though, leadership across the business will catch on and begin to understand the competitive advantage that Big Data analytics creates for their respective functions and overall company.
As discussed in my previous post , the presidential election is a perfect example of how Big Data insights are transforming the way decision making is done. The ability to make more accurate forecasts and to then gauge and adjust where necessary in real-time is what makes Big Data analytics so powerful.
These benefits certainly apply to the HR function. Business leaders are now looking for HR to participate in the decisions that run the company. 2013 will be the year that HR takes a strong step forward to solidify its position in the C-Suite by leveraging Big Data insights to give broader, evidence based recommendations, being quicker in planning and taking faster actions to run and manage the business.
I would further expect that the early adopter companies will realize that Big Data derived insights are even more powerful when considered at the broader enterprise level; enabling them to see holistic patterns as they emerge.
To achieve this level of insight and competitive advantage, I would expect that we will start to see companies consolidating their business analytic competency into a core business function. When that happens, today's HR focused Data Analysts will transition to become members of this centralized function where they will combine their knowledge of HR and data to support both HR strategic reporting as well as company-wide objectives.
Technology Will Continue to Make Adoption Easier for HR
Big Data related technologies have already vastly streamlined the effort required pull high volumes of data from various sources into a unified, easily accessible repository. BI projects that once required incredible heavy-lifting can now be accomplished at a fraction of the effort, resource involvement, and cost.
In recent decades, technology has been the key enabler for the Human Resources function — allowing the function to shift from being viewed as a paper-based, administrative function to that of a valued business partner. This trend will continue, pushing HR to adopt the Big Data technologies.
The demand for HR to step further into the Strategic Business Partner role can only be achieved if the function continues on its path of adopting and leverage these newer BI and advanced analytic technologies. With this in mind, 2013 will be the year that vendors will deliver innovative solutions to their Human Resources that will give the function immediate access to these vast data sets and actionable insights they contain.
Those Who Act Will Win the Race
As technology continues to reduce the barriers to implementation of a Big Data analytics program, companies that don't act will risk losing competitive advantage. Even if you don't yet have the resources and know-how to achieve a long-term Big Data vision, it's imperative you get started, even in small steps.
The race is on to create the next competitive advantage. Businesses today need to look beyond mere data and reporting to discover insights that lead to smarter, faster decisions and ultimately better business results. Predictive analytics, which increase the likelihood you'll be right, help achieve that.
Talent acquisition is a race too. It is a race for companies to be able to source, engage, and hire the best talent before the competition does the same. Companies that understand talent supply and demand factors and tie that understanding into their sourcing strategies will be able to build their talent pipelines faster, be smarter about how they spend their recruitment advertising budget, and better allocate their recruiters to focus on candidate engagement compared to companies that don't. In 2013, Big Data foresight and real-time analytics will give companies this edge.
There is no question in my mind as to whether or not Big Data programs will have measurable business impact in 2013. The consulting firm Deloitte predicts that by the end of this year, more than 90 percent of the Fortune 500 companies will have at least some Big Data initiative underway. Clearly, the pace at which companies are moving on Big Data is accelerating. With 24% of surveyed companies already engaged in Big Data projects, the technology adoption cycle is well on its way to becoming mainstream. Early adopters and those who act now will begin to reap the benefits in 2013.
HR professionals take note — make 2013 be the year that you resolve to embrace becoming more analytic and numbers based.
I'd like to hear about your Big Data for HR predictions as well. Let me know what you think.