Over the past 12 months, I have had the luxury of speaking with a vast assortment of HR Directors who are kind enough to impart their wisdom, opinions, and frustrations when it comes to utilizing Big Data in the HR workplace.
One common thread seems to be centered on the method of how vendors are providing statistics — usually by fancy, highly illuminated dashboards. At first these Directors revel at how their statistics can be sliced and diced; pie charted or graphed, drilled up or drilled down, all in vertical or horizontal preferences. So enamored are they by these sophisticated dashboards that they wholeheartedly get out their checkbooks and pay serious money, believing that the dashboard will provide insightful, game-changing epiphanies.
By definition, dashboards are not meant to provide answers. Dashboards are simply a gateway to see status and to delve deeper in to the underlying information. In either case, HR teams are realizing that it takes a significant amount of time and expertise to analyze this information — neither of which is in great supply in most HR departments. As a result, the dashboard sits dormant. One HR Director confided in me that if she gets pitched on one more data dashboard she'll scream.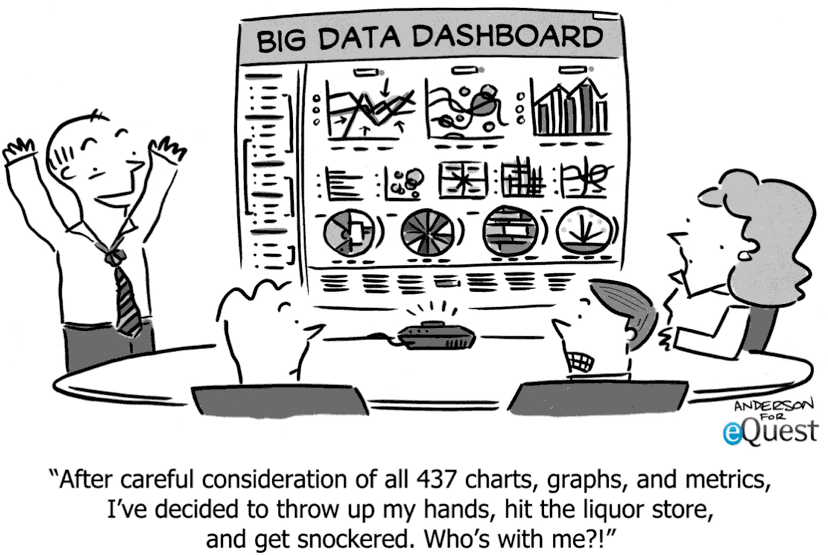 I am not saying that dashboards don't have a place in the world of HR. There's a time and a place for dashboards. What I am saying, is that data does not magically reveal itself as actionable insights without some amount of heavy lifting. To inform decisions, data must be analyzed and that analysis has to be done in the context of the business. At the end of the day, colorful, nicely arranged data, flashed on a screen, is still just data.
Fortunately, it is no longer an either/or situation. HR can have its cake and eat it too. Big Data-driven insights can be delivered exactly when it's needed in a format that can quickly and easily be understood. No more slowing down first to do the dashboard drill-down data analysis. This is often the obstacle to leveraging the power of those dashboards that causes them to remain inactive. The buzz about Big Data is really all about being able to get at timely business insights that a company can then use to its competitive advantage. Imagine having the power of data-driven insights without having to wade into the data analysis.
Have you ever experienced Dashboard Dizziness? I'd welcome your stories and feedback. Send them along to david.bernstein@equest.com.
Want to learn how to avoid the Dashboard Dizziness? Our Floating Point blog can help you make sense of what Big Data for HR really means. Learn more about how eQuest's Big Data services are transforming the Talent Acquisition process for companies of all sizes across the globe.